Hello and Welcome to Pipley Flowers
Nestled in the rolling hills between Bristol and Bath, Pipley flowers was born from my passion for gardening and a desire to get out of the rat race and do something I loved. I had the experience of having run a successful business involved with garden design and interior planting schemes but I was nearly always involved in the business side rather than working with the plants. I often had dreams of running a nursery or training as a florist.
I had never considered that flower farming in this country was a viable business until my mum gave me a newspaper clipping which told the story of a British flower farmer. A month later I attended a workshop on flower farming to find out more and by the end of the day I knew this was what I wanted to do!
Years ago we had a thriving cut flower industry in this country, in fact the land I now grow on was once a flower farm! Sadly 90% of this trade was lost over the years to places like Holland and Kenya. Recently people have been thinking more about where their food and other consumable items come from and of course this was naturally going to progress to our cut flowers.
Brides have realised that they can have beautiful, blousy scented roses, wildflowers and other British flowers of a quality quite unlike anything that is imported into this country.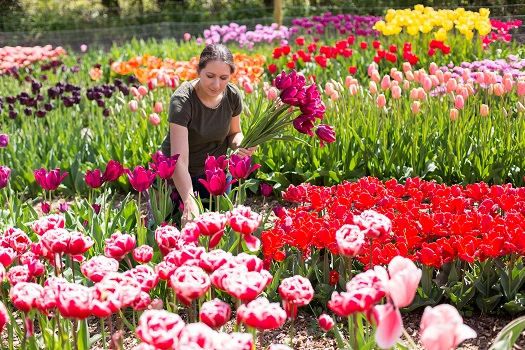 British grown flowers reflect the diversity of our seasons and they have a fantastic vase life as they are cut straight into clean water and often travel no more than a handful of miles until they reach their intended recipient. With locally grown flowers there is no need for nasty chemicals or planes which fly half way round the world to return home empty.
The flower farm is located in Upton Cheyney and I supply wholesale stems to florists, run workshops, and offer a floristry service providing flowers for weddings, events and funerals.
I would love to hear from you so if you have any questions please don't hesitate to get in touch!
Find PipleyFlowers on Twitter & Instagram